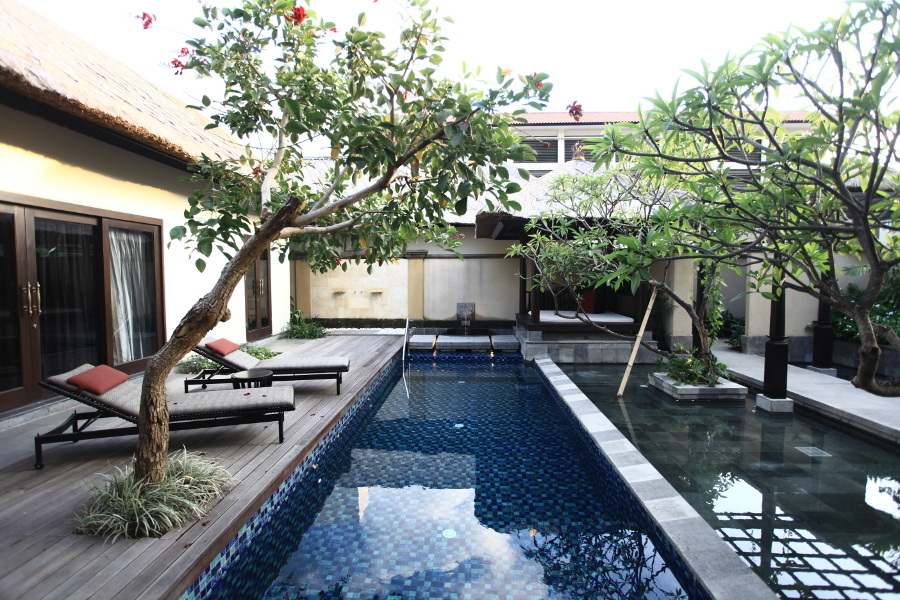 I've never been one for those tough-it-out holidays – and so for my 21st I knew I definitely wanted somewhere where I could chill out in comfort (not luxury, comfort) and relative seclusion. Mainly wanted to catch up on my reads, paint, work.. you know the drill, it's the same whereever I go.
Bali wasn't in my original plan – I'd wanted to go to Phu Quoc or Nha Trang because Vietnam is very special to me and honestly, what better way to die of Hep B than by gorging on Vietnamese seafood? That plan fell through due to budget issues, so I decided on Bali instead.
While booking the resort, I had the following criteria:
1. Must have little to no negative feedback on Tripadvisor
2. Must be a 5-star accommodation
3.  Agoda ratings above 8.5 stars
As you can see I have a lot of faith in the traveller community. Haha!
I set myself a budget of about S$800 for the trip, all-inclusive. Possibly the same amount that I would have spent on a party, except I'm not entertaining folks and paying for their food too. The cost was shared so it turned out to be within budget. Here's the breakdown (per pax)
Airfare: S$250 w/ 1 flexible return trip ticket (just in case!)
Accommodation: ~S$450
Food and transport: S$150
There were no plans to leave the villa except to make a quick dash out for dinner at a beach club or nearby restaurant, so this budget worked out quite well.
---
The Trans Villa is part of the Trans Resort Bali located in Seminyak, aka hipster town. There are great beach clubs in the area, including Potato Head Beach Club (yeah, overrated, but still great). I initially had a very detailed itinerary, which ostensibly went to shit the moment I stepped into the gorgeous villa.
Out of this grand plan, I only managed to go to Potato Head and Mamasan (not included). Definitely calls for a return trip. Right? Right?!
The Trans Villa is about 30 mins ride from Denpasar Intl, and we lost our airport transfer guy so we had a snack at Bangi Kopitiam (at the airport) before finally leaving. The trip cost approx. S$21, which is expensive but travelling in a Mercedes upon touchdown in Bali? Not complaining.
The villa we had was a beautiful 1 bedroom villa with a private pool. The villa is spacious, clean and most importantly, modern. I'm not a huge fan of rustic decor so this was definitely a nice touch. The shower rooms, couple's jacuzzi and sink areas were well-designed (or for a lack of better term, have good UX-flow).
One notable addition would be the resort pool: if you stay at the ground floor of some Trans Resort rooms, the pool is literally your balcony. And look at it:
It's beautiful! The resort pool has a mini slide and fake sand that children obviously love – I always saw one or two in the pool frolicking.
The resort kept us well fed with a good spread of food for breakfast, high tea:
Our last day's lunch was sumptuous, a bit pricey but definitely a treat.
Food-wise, we also visited the nearby Mamasan which in my opinion was a rip-off. Didn't really enjoy the food, though I must agree the small, palatable portions in which they serve delicacies like Peking Duck could be a reason why it's so popular – you get to try dishes you otherwise might not have.
We also visited Potato Head Beach Club (I hear you can't say you've visited Bali unless you've been there) and at sunset, it was mesmerizing.
Was ready to jump down swimwear and all, but nah. It was getting late, tide was high.. just the wrong time to be in the water, basically. And after dinner we were so pooped that we didn't manage to try the infinity pool either.
Dinner was pretty mediocre fare, saved only by the company and view.
Our last day at the resort was spent relaxing and chilling. That's the way I love my holidays – relaxing in the jacuzzi tub with my Kindle, napping on the sunbed, fashioning a ghetto cinema with some cushions so I could watch movies while in the pool.. what a dream. 🙂
Overall I must say it's a pretty memorable stay. The villa exceeded my expectations and the service level made it even better. While it didn't come cheap, it was rejuvenating, and I can't imagine a better way to spend my 21st birthday. 🙂
The Trans Villa Bali
Website: http://www.transresortbali.com/welcome/index.php
They have virtual room tours on their website which could be useful in your decision-making.
Address: Jalan Sunset Road, Kerobokan, Kuta Utara, Kerobokan Kelod, Kuta Utara, Kabupaten Badung, Bali, Indonesia
Phone: +62 361 8981234