Cr: sistic
Whatever it was, nothing prepared me for Shun-Kin.
I have never felt this way for a show before. As everyone around me rose in a standing ovation, I didn't even have the energy to stand. I was just in my seat, reeling from the whole production, trying to regain my footing in the real world.
Shun-kin does not attempt to prey on western fascination with orient culture too much. It is what it is – a glimpse into another culture, where sadomasochistic love between a wealthy, beautiful shamisen player and a lowly servant is acceptable, whereas in western culture it would be considered perverse by any measure. The show charms with the use of three narratives that intersperse and overlap each other seamlessly, and tell the story enchantingly. There is a fine balance of acting and narration – such that I only noticed the narration in retrospect. Simon McBurney, in his talk on Wednesday, also mentioned that the cast is the same one that was there from the very beginning, and I think that contributes to the flawless orchestration of this piece. It is a tale of the human condition, a relation of love in a different form, a mock documentation of beauty in a dark, dark place. There was no playing on our pathos or ethos. The story was just presented as it is, with no frills, and you take away what you want to take away. The piece is fraught with many emotions that come across as an undertone, yet the performance evokes the emotions in you rather in shoving it in your face.
I have never liked being in dark places since I was young, so it came as a surprise to me that I would like the darkness of this play so much. It was easy on the eyes (I didn't feel the burning sensation that I often have with brightly lit stage productions) yet the darkness seemed to hide so much in its depths. Indeed, there is beauty to be found in darkness. With the added dimension of the stage that was in darkness, the play seemed to take on a more mysterious, shadowy quality. I think this somehow helped me to embrace the ambiguity of certain parts of the play, rather than have my inquisitive mind hurt the author's intention of leaving portions of the tale to the imagination.
Adding to my surprise at my liking for the darkness of the stage, I was also surprised that I enjoyed the narration. I usually hate plays with narrators, or what I call "one foot in the story and one foot out". I prefer to be submerged in the story, but this time, the narration was so well-blended that I could hardly discern where it began and where it changed narrative voices. One other writer's touch to the piece I enjoyed was when the show was cordoned in half – there was time for a "water break" so that my mind was able to clear itself and prepare for the next segment. These considerations were even more impressive when there was another buffer at the beginning of the second segment so I had time to get myself back in the story. Such consideration to details, when observed, could give a piece proper framing and tie things together really well.
[youtube=http://www.youtube.com/watch?v=mkouylM8qNE]
What really impressed me tonight, though, was the cast. Especially the portrayal of young Shun-Kin. The voice was charming, charismatic, and sounded completely true to life even though young Shun-Kin was portrayed by a doll. The lilting, crisp and coquettish qualities of the voice really drew me in. The puppetry also must be commended because if I'm not mistaken, each movement of Shun-Kin's arm, legs, and body had to be coordinated by two or more people. Honestly, I can only imagine the amount of rehearsals they had.
Shun-kin is a enchanting in a very mystical way. This stage production used such minimal prop/s: sticks, mats, screens, minimal lights (nothing fanciful) to bring out a show so packed with subtleties. Rather than depending on glamorous sets, this piece hung on the well-orchestrated cast to move each prop at the correct time to the correct place.
.
.
.
I initially told many of my friends that I was unable to speak about Shun-Kin simply because there is nothing left to say. I am still very much immersed and captivated by the story at the time of writing and doubt that I will ever be able to give an objective view of this. It is not often that I come out of a play so emotionally drained. Shun-Kin has touched something visceral in me, its intensity of emotion unmatched by other plays that can sometimes be afraid to confront. This production has no qualms presenting the story wholly to you – and hats off to Complicite for that.
One day, I hope to be able to make theatre like that. I realize that recently my works have all taken on hypocrisies – too many extravagant, chimerical devices that seek not to present my story, but to impress. Is that what I really want? All I can say is a resounding no. I think theatre to me is purest when it's used as a means of conveying a message, to influence and touch people, to present an alternate perspective, a deviant approach. Not to thrill or titillate. I hope to one day achieve such a realm of rich imagery and plain, impactful theatre. For now, Shun-Kin, and Complicite's images, are branded on my mind.

I'll leave you with the image that most disturbed me tonight: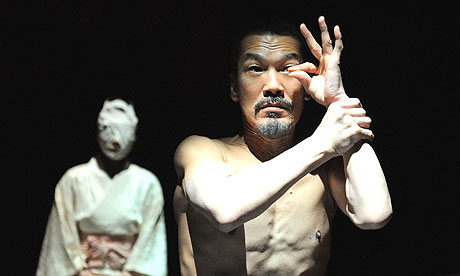 Cr: x